Exhibition content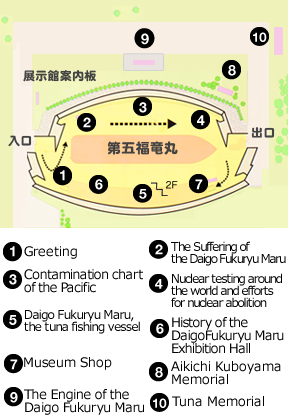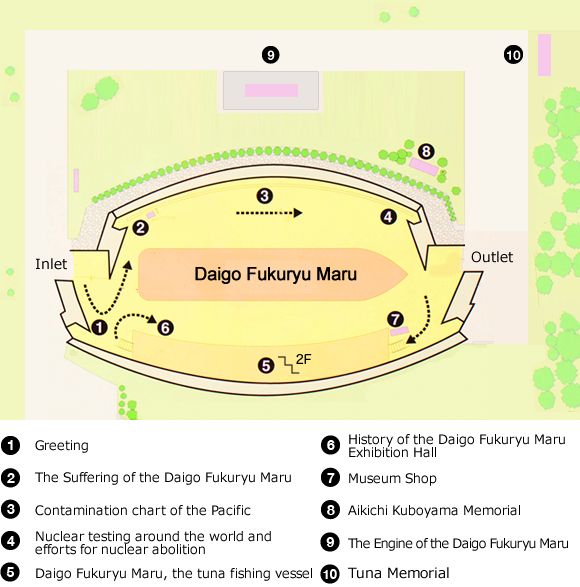 The Daigo Fukuryu Maru is fixed on land and located in the centre of the exhibition hall, which is designed like a dock. Surrounding the vessel are various exhibitions of materials and explanatory panels, such as the actual "ashes of death", belongings of the fishermen, letters written to crew members during hospitalization, Geiger counters, petitions gathered against Atomic bomb and Hydrogen bomb testing and more. Upstairs exhibits include a model that reproduces the Daigo Fukuryu Maru at the time of the incident, and a model showing the internal structure of the vessel. Various fishing equipment is also displayed on the deck. (Access to the deck is closed for conservation purposes.)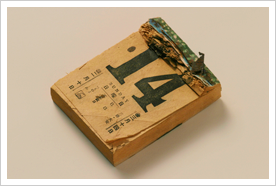 Table of Contents
Suffering of the Daigo Fukuryu Maru
Health Damage of the Crew
Radioactive Tuna and Radioactive Rain
Calling for Ban Nuclear Weapon
Other Affected vessels and Spread of contamination
Suffering of the Marshall Island
Nuclear Test in the World
Nuclear Test Chronology
Russell Einstein Manifesto
Outside the Exhibition Hall
Aikichi Kuboyama Memorial
A memorial to Aikichi Kuboyama, a crew member of the Daigo Fukuryu Maru who died half a year after the incident. Engraved on the memorial are his words, "please make me the last man who died from an A- or H- bomb." This memorial was ereted in May 1976, at the time of the opening of the exhibition hall. The inscription on the monument was made by Yasuo Miyake, the first president of the association.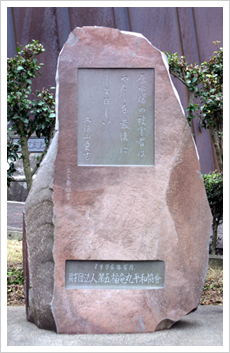 Tuna Memorial
Great amounts of tuna were abandoned because of radioactivity following the Bikini Incident. Upon the call of Daigo Fukuryu Maru crew member Matakichi Oishi, donations were collected from around Japan to make a tuna memorial, in the hopes that such a nuclear disaster would never be repeated. It was erected next to the Exhibition Hall in 2000.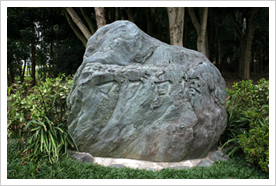 The Engine of Daigo Fukuryu Maru
The engine of the Daigo Fukuryu Maru was reused on the cargo boat, Daisan Chiyokawa Maru. However, this vessel sank because of heavy fog in the Kumano Sea, Mie Prefecture in 1968. 28 years later, in 1996, the engine was pulled up from the sea through a citizen's initiative. It has been displayed since January 2000.